SDSC Industry Engagement & Demo Day
March 1, 2019 @ 9:30 am

-

2:00 pm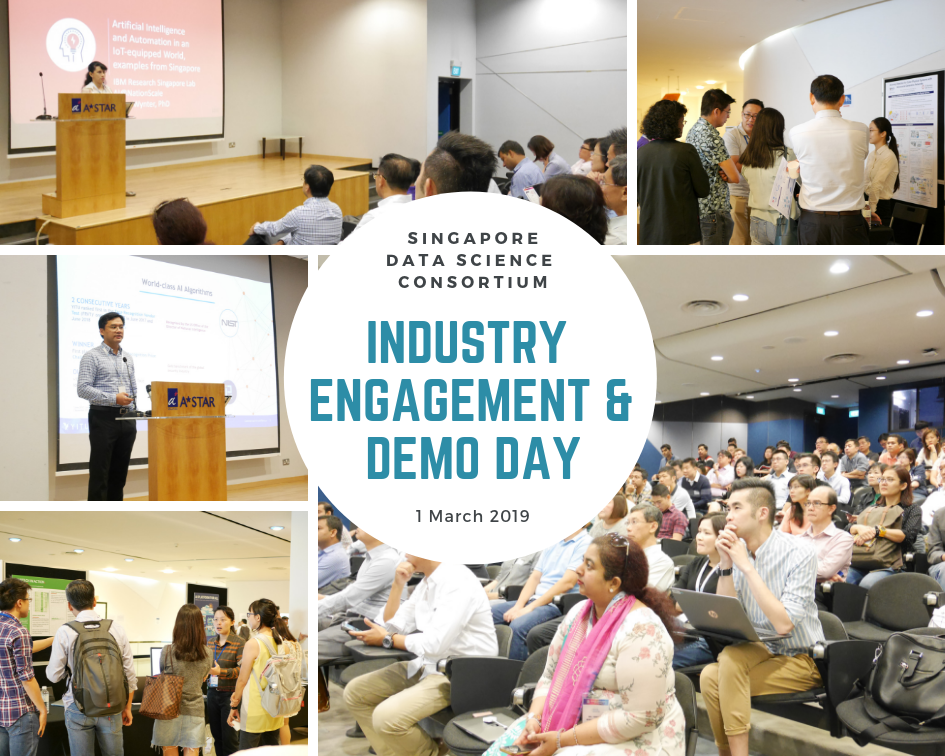 Industry Speaker 1: Dr. Zhang Zhenjie
Dr. Zhang Zhenjie is now head of R&D in YITU Singapore. Before joining YITU, he was Senior Research Scientist of Advanced Digital Sciences Center (ADSC), an affiliation of UIUC in Singapore. He is an active researcher in highly diversified areas, including database, machine learning and distributed system. He has published over 70 research papers on top computer science venues, such as SIGMOD, ICML, NIPS and USENIX conference. He was recipient of early-career award honorable mention of IEEE Technical Committee of Data Engineering (TCDE).
Title: Big Face Data: From Recognition to Business Analytics
Abstract: In this talk, Dr. Zhang will discuss the technical progress of face recognition and the business trend. With the accuracy of face recognition reaching a new level, new business opportunities are emerging by utilizing the face recognition outcomes. It raises questions on the best practice of algorithms in real world applications, as well as demands on academic research of new data processing and analytical engines to enhance scalability and user experience.
Industry Speaker 2: Dr Shonali Krishnaswamy
Dr Shonali Krishnaswamy is the CTO of AIDA Technologies. She is also Professor and Deputy Director of the Data Science Institute, Swinburne University of Technology, Melbourne. Previously, Shonali was the Head of Data Analytics at the Institute for Infocomm Research (I2R), Agency for Science, Technology and Research (A*STAR), Singapore. She led a team of over 50 post-doctoral data scientists, and established and directed analytics-focused R&D labs in a number of sectors including Banking, Insurance, Telecommunications and Healthcare. Before joining A*STAR, Shonali was an Associate Professor and Director of the Centre for Distributed Systems and Software Engineering in the Faculty of Information Technology, Monash University, Australia. Her R&D interests are in Mobile User Analytics and Mobile and Distributed Data Stream Mining.
Shonali is the recipient of several prestigious awards including: Institute of Engineers (IES) Singapore Prestigious Engineering Award (2015 and 2016), ASEAN Outstanding Engineering Award (2016), IBM Innovation Award (2008), Australian Research Council Australian Post-Doctoral Fellow (2003-2005) as well as internal recognition / awards at Monash University (Australia) and the Institute for Infocomm Research (I2R, Singapore).
Title: Machine Learning in Financial Services: Bridging the Gap from Useful to Usable
Abstract: Today's state of the Machine Learning technology focuses on building high precision models that are accurate. Machine Learning platforms exist that assist the generation of models by the minute and hour. However, the more serious challenge and on that needs to be addressed is how can machine learning models help to create truly transformational impact in financial services and insurance? How can machine learning models bridge the gap from being what they are (useful), to being truly usable? This talk will look at some of the key challenges that need to be address to take the next step towards enabling "usable" and "operationally scalable" machine learning using real life use case cases and examples.